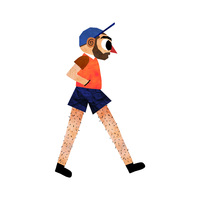 Toby Pritchard
MA Design: Illustration
Drawing inspiration from the educational potential and inherent playfulness of wooden toy blocks, my MA explored how I could adapt these children's toys into picture books that promote kindness and understanding; all the while linking it to my animation roots and creating short animations designed to instil a sense of calm and stress relief in those who watch them. In a sense, my MA was built around slowing everything down to a meditative state and trying to be nicer towards everything and everyone.
Looking beyond the MA, I aim to present my interactive work in unison with my physical books and toys in the form of a package that can downloaded on my website page. This will be divided into a computer desktop app, mobile app and tablet app, in collaboration with established designers and web developers.
With all of my research put together; a relaxing and pleasant user experience will be at the heart of my practice going forward. I aim to develop a strong and comprehensive set of engaging activities and learning tools for education and mental health, with links to physical books and toy blocks as an extended tactile resource in creative learning and play therapy sessions.
Cheers for reading, have a nice day!