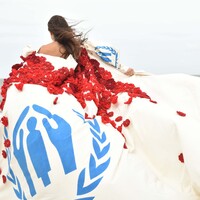 Futoon Qusairy
MA Design: Fashion Art Direction
How ugly war is when humanity is astray, and childhoods are stolen. When women and children are displaced, leaving their homes, their country, and everything they strived for behind. By doing so, many women are at high risk of being raped, abused, and insulted. Things don't get much easier when they immigrate. They have to restart their lives almost from scratch as refugees.
I have had the chance to work with Syrian refugees in Jordan. I heard numerous stories from women suffered as a result of their displacement, young girls forcibly married. I was inspired by the strength and resilience of these women, which is what propelled me to focus my practice on storytelling and women empowerment.
MARIRA project is expressing the untold stories about early marriages which have been shaped within the strains and characteristics of displacement among Syrian refugees.
MARIRA DRESS is a statement piece Eco's loud narrative of refugee women around the world.
The dress has been made by a tent housed a Syrian family in Jordan, distributed by UNHCR.
300 crochet roses are placed on the tent made by artisan women based in Zaatari Camp in Jordan, in 3 different shades of red. Each shade represents a specific age group. Every thread tells a story.