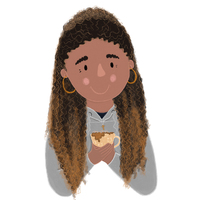 Rhian Voyce
MA Design: Illustration
I'm Rhian Voyce, a pedagogical designer from Northampton, United Kingdom. The Masters in Design: illustration has allowed me to evolve my practice around the relationship between play and pedagogy within children's illustrative narratives. Mostly inspired by contemporary issues, my work aims at widening children's perspectives around their exploration of the world. I enjoy applying my practice in different contexts, with a particular interest in children's interactive illustration, picture books and 3D object making.
In-depth research during the MA provided me with knowledge of children's engagement with stories, both physically and psychologically through interactive and literacy-rich learning. This motivated me to incorporate learning principles into fun design, leading to my final project. The project, 'First Women in the Armed Forces' activity magazine aims to create early engagement with STEM-related roles, through inspiring children with the stories of the role-model women of the Armed Forces. I injected my passion for interactive illustration into this project and developed my skills in designing for print. It also brought a connection to my role as a reserve signaller in The British Army, tackling gender stereotypes and diversity issues regarding young women's career aspirations. The need for diversity within children's publishing also became an underlining interest within my work, influencing my character designs.
Through; identifying my practice's niche within children's illustration, engaging in a professional project to propose activity packs for the British Textile Biennial and forming a publication project with a societal impact, the MA has brought me closer to my goal of starting a career as a book designer in a children's publishing house.