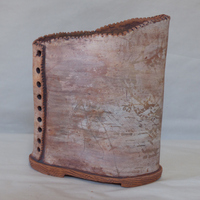 Louise Miller
MA Design: Craft
My practice as a ceramicist is centered around making hand-built vessels that act as narrative responses to my own explorations of physical locations, with a focus on sites of heritage within the UK.
This project explores the legacy that humans have left on the British landscape in the wake of the Industrial Revolution, and how interacting with these landscapes through walking can help to reconcile and reflect on the environmental damage of the past, in the hope of protecting these areas for the future. My argument being that if you have a connection with a place, you are more likely to want to protect it.
This series of vessels are based on my experience exploring the historic ironstone mining landscape of Rosedale in the North York Moors.
Each piece is based on an individual circular walk, following the tracks of the old ironstone railway and intersecting with the postindustrial mining ruins of the 19th century.
I incorporate the names of recognisable landmarks and 19th century map imagery onto each vessel's surface, and use the elevation chart of each walk to be reflected in the fluctuating rim height.
My work's aim is to create a three-dimensional experience of these circular walking routes, which can be followed around the circumference of each piece.
Each pieces is formed from an individual slab of clay, in which layers of screenprinted slips and subtle iron oxide washes are applied to build up a ghost-like, multilayered effect on the vessel body.