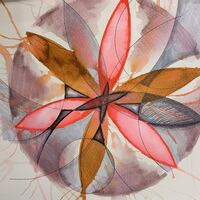 Joanne Columbine
MA Design: Textile Practice
I hoped to provide an insight into the lived experience of daily life with anxiety. I have battled it during this course and it inevitably became a potential area of investigation.
I use textile because hand skills, fabric and cloth are essential parts of my art practice and personal history, and text because that is crucial too.
The work I'm including here was intended to be part of an installation: there would be six 1 metre wide, 6 metre long sheets of white fabric hung in an open spiral - the individual pieces would then be pinned inside them. They could change their position inside just like each days concerns could change. Somedays there would be a world of pain - somedays it would be all about being fat. An accompanying printed guide would act as key and give the background to each 'question'.
Coronavirus - Covid 19 - has changed everything of course, but for me the lockdown was a strange period of ease when all my worries became subsumed into one big source of anxiety. We worked from home and because of this constraint, I was also obliged to try new things that could be done on a domestic sewing machine, by hand or with an iPad.
The project has mapped out 'my interiors' but it has also mapped a transition from worrying about me - to worrying about all our futures. Especially with the world turned upside down. I would like to hope that it is creative work that will save us.