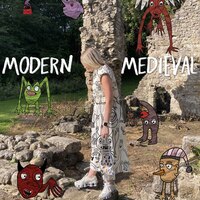 Georgia Woodhall
MA Design: Textiles for Fashion
'Modern Medieval', a project exploring medieval art within marginalia. More specifically, exploring the medieval monsters within art and finding them within our own life.
What was intersting for me, was how what they found funny then, is still funny and relatable now. I wanted to create something like this within my own practice and explore those idea in a modern context, asking myself, 'if medieval art was created now, how would it look?'.
Social media was a big influence in the illustrations I was creating, I found myself gradually disconnecting myself from the trends I was seeing online. Once I did this, I began to notice a lot of things I was maybe too consumed in before.. like many of us are.
I was particularly inspired by medieval religious attire, how priests and bishops would wear clothing that were fluid and genderless. I wanted to create a collection inspired by my influences from these medieval priests, and create something modern. As I could not complete my collection due to the pandemic, visualising it was the only way I could fully explore these ideas. The addition of the accessories which I could make were particularly important and helped bring this collection to life. It also allowed me to make my illustrations available to everyone, in the form of handbags.