Frederick Hazael

MA Graphic Design and Art Direction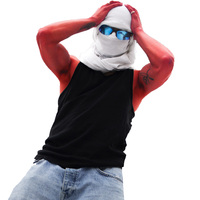 I am Freddie Hazael - a conceptual fashion photographer currently based in Manchester.
My practice is my therapy. I am able to escape from the mundane nature of day-to-day- and enter a world of distorted perfection. Emotions, good or evil, are projected and emulated into this environment. The Scenes you are confronted with, when viewing my work, are fragments of my own psyche.
Constructed by my creative alias "ICECREAM.her", I am able to come face to face with my own demons and elements of my own identity. Characterised by a mask that completely obstructs the wearers' identity- versions of my alias can be seen throughout my work.
Inspired by designers such as Demna Gvasalia, the styling of my imagery is always a focus. I aim on producing punchy, dystopian work- with provocative undertones.