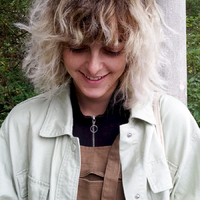 Maria Fernandez De Osso
MA Design: Graphic Design and Art Direction
I am interested in the study of design for wellbeing and how arts can connect people, allowing them to express themselves and own their narratives. My work as a digital designer explores and experiment with new ways and techniques on visual communication and design.
Redefining Mental Health is my final MA project, aiming to fight stigma and raise awareness while enhancing positive impact on mental health. The project connects with communities through workshops on typography and mental health, enabling the public to own their narratives and express themselves through type design. Words are powerful and we can tweak meanings manipulating them graphically.
Through a series of online and physical workshops, the audience testimonials have been anonymously collected in posters and in a Positive Mental Health Community Dictionary.
My practice focuses on research through making and experimentation. Having side projects where I can explore and test new methods and systems, allows me to implement and enrich my own process. Mixing the analogue and digital, embracing the error and randomness as well as combining disciplines are key elements in my practice.
Currently, I am looking for opportunities on design for wellbeing and social design, working with organisations that aim for positive impact in our society.
If you come to Spain, come say Hola!