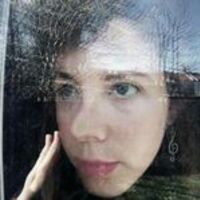 Fiona Sinéad Brehony
MA Photography
Fiona Sinéad Brehony is an interdisciplinary artist interlacing moving image, text and performance. Her live work combines experimental language and performance to explore the beauty of isolation in vacuous spaces.
A current student on the MA Photography programme, Fiona is interested in the use of text and audio performance alongside visual imagery to convey real life events to an audience. Fiona's first moving image piece is a documentary entitled 'The Flowering'; a collaboration with composer and electronic music producer, Simon Knighton from the Royal Northern College of Music. The film uses poetry written by a resident of a council estate, who discovered that their home would be demolished and replaced with new buildings.
Fiona and Simon will next collaborate on 'The Secret City'. A documentary using writing, video and contemporary music composition to explore the relationship between new building developments, and social history in Manchester. Digital video will weave together analogue images and text drawn from historical archive and present-day footage. A combination of static and moving images will depict a narrative of social history and fantasy, to reflect on the relationship between historical inhabitants from the 19th and 20th Century, and the significant role they play in Manchester's socio-political history.
A running narrative within Fiona's practice is in the reimagining of a lived experience through images and text.
If you would like to view 'The Flowering' or would like to learn more about Fiona's current research, please don't hesitate to get in touch on the email provided.